Today's post for WordCount's 2012 Blogathon is thematic, about all the participating bloggers' "Second Acts" in life (inspired by SecondAct.com). My second act has nothing to do with Laura Ingalls Wilder, and yet everything.
Five months ago today, I gave birth to my third child. As I lay in the OR (third C-section, sigh) and tears slid automatically down my temples and into my ears, it occurred to me that that was the first time I'd cried in four months. 
Compared to the previous decade, four months was a record.
In August of last year, my family and I moved out of state. For me, this pulled the plug on ten years* of loneliness, frustration, and, ultimately, depression. 
I don't do depression well. Thankfully. But for over a decade I'd been living an existence whose mere vocabulary was enough to make me—and keep me—me unhappy. Rural. Isolated. Dusty. Windy. No trees. No friends. And too many damn rattlesnakes. No one to grab a coffee with, or a margarita, and no place to grab either one anyway. In essence, the antithesis of everything I'd known for the first 30 years of my life. I adored my husband and I adored my kids, but as the years passed and I sank further into hopelessness that our family's ultimate plans to relocate would never be realized, I myself was not adorable. I was a bad mother, and I was a bad wife. 
Then I spent my 40th birthday alone. It was, unfortunately, a Tuesday. As the previous year wound down (my birthday is in January), I'd tried to arrange a weekend away—the only feasible option since nothing existed within driving distance—but it just didn't pan out. Plus, call me persnickety, but on my actual birthday I wanted to actually do something. My husband was there, of course, and he is my everything, and the whole reason I was temporary rural girl in the first place. But a girl needs her girlfriends. So in the company of dozens of three-dimensional, snail-mailed birthday greetings (which I'd solicited—a practice I highly recommend in this FacedIn, texty age) and a bottle ofshiraz, I spent the entire day of my birthday feeling sorry for myself.
Enough. That's the thought I woke up with the next day. This was not me. The fact that I was depressed was, well, depressing. I'm a bootstrappy girl. Show me a flight of stairs, and I'd sooner run up them than walk. I'm always looking for the thing to do, the reason not to surrender to the TV and the computer. But I'd lost myself, and I had to find her. I was done being the girl who Let Things Happen; I was going back to the girl who Got Things Done.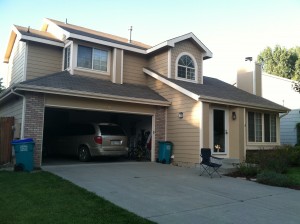 It hasn't been easy. Finding out I was pregnant a few weeks later made it even less easy. But eight months after I turned 40, I found myself in a house, with green grass, surrounded by neighbors, steps from a coffee shop and library, in the midst of a town that has scored inclusion on many a "best of" list. My kids go to a school I chose from half a dozen possibilities. I can see the mountains to the West and trees on all sides. And I have a beautiful, miraculous new son to bump us up to a family of five. 
These days, though the stretches of days when my husband can join us are becoming longer, I'm a single parent most of the time. But despite the difficulties, I feel like I have it all. I balance soccer practice and play rehearsal and homework checks with nursing and diaper changing, and sometimes I do it badly. But perfection isn't where it's at. Happiness is. I laugh daily. I go on walks in the sunshine and eat at restaurants I've never been to. The freelance career that had dwindled to next to nothing is now thriving. Funny how that happens. And now I only cry at Hallmark-worthy YouTube videos making the rounds of Facebook, or when my kids unknowingly skate through a moment of poignancy that I'm lucky enough to witness.
I'm totally ready for the rest of my life.
* I did spend one year back in my home state in the Northeast, but admitting that messes with the math.