One of the nice things about traveling to the Little House sites — "homesites," we Laurafans call them — more than once is seeing how they change over the years. And they do change. Rotating exhibits, continuous improvement … time and resources permitting, it keeps going on. Rocky Ridge Farm at Mansfield, Missouri, where Laura spent the last sixty-plus years of her life (and wrote a book or two), for example, is embarking on an ambitious, complete renovation that will throroughly improve the grounds and all the structures on it.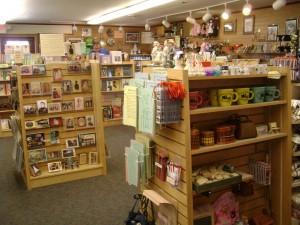 This picture is of the gift store at the Laura Ingalls Wilder Museum in Walnut Grove, and that's what it looked like the last time I was there. (In fact, that there green mug on the shelf to the right is what I drink my fresh-from-the-French-press coffee from at least three times a week.)
Well, that's not quite true. The coffee mug part is true — I wouldn't mislead you about coffee — but it didn't exactly look like this the very last time I was there, in the Spring of 2012. At that time, it was a big, vast expanse of nothing, because everything had been moved out and the gift store was being expanded. But now construction is over, and renovation is complete. Visitors to Walnut Grove in 2012 will be able to shop in a gift store that's twice the size of the one it replaced.
It sure needed the space. The Walnut Grove gift store is one of the most crowded shops I've ever been in. Granted I tend to visit there during events, and with events come crowds. In tiny Walnut Grove, that means big crowds. But still, even though the register kept expelling customers and their purchases at a good clip, it seemed as I tried to select what I wanted to buy I was always moving out of the way of one person or bumping into another. Now, when you shop for books or Charlotte dolls or handmade sunbonnets in Walnut Grove, everyone will have room to breathe.
(I highly recommend the coffee mug.)
See more of Walnut Grove's gift store renovation on their Facebook page.