One of my colleagues asked this question a while ago:
Why should an adult who has never read the Little House books read them?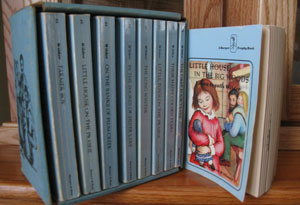 I've thought about this question for a while, and I haven't come up with a good answer. I know what I think as an adult reading them, but that opinion is colored by over 30 years of reading the books, particularly in childhood. To me, childhood—mine in particular—is entwined with the Little House books. I grew up with Laura ten, maybe twenty separate times while I was growing up myself. I always found something to fall in love with on each reread of the series. (I definitely did during the readalongs on Beyond Little House, discovering or noticing phrases or feelings I'd never quite discerned before. I love that.)
But I don't know what a first-time reader would think, as an adult. Would it come across as strictly a children's book series? Or would it transcend age, the way it always has and always will for me? I admit, I can't decide. I couldn't say definitively what an adult first-time reader would get out of reading the series.
What do you think?
(I just thought of someone who read—and loved—the Little House books as an adult: Dean Butler, who played Almanzo on the TV show. He even wrote a comparison on his blog of These Happy Golden Years to the way the TV show treated Laura and Almanzo's courtship. And here's another two: Kara Lindsay (Broadway! Wicked! Newsies!) and Kevin Massey, who played Laura and Almanzo, respectively, in Little House: the Musical, which toured nationally in 2009-2010. And who got married later on.)